Players
Whether you're playing on a machine that's equipped with a Scorbitron that saves your scores or you enter your scores on the app, Scorbit lets you connect to players everywhere:
Find places to play pinball near you
Keep track of your scores on every pinball machine ever made
Challenge your friends with your high scores and invite them to try and beat your scores
Follow your pinball pals and other players to see who's playing and what scores they're getting.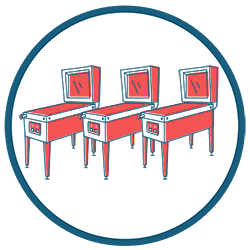 Collectors
Managing connected machines in personal home arcades, game rooms and private collections, collectors can use the Scorbit app to:  
Increase interest, desire to play and connection between friends and family
Enable private-score leaderboards for friends and family to challenge each other
Connect their home playing experience to others' around the world with casual tournaments
Make old games new again by bringing them into the digital age.
Operators
Using the Scorbit app in concert with Scorbitron-enabled machines, operators with machines on location can login into their private accounts to:
Check the operating status and increase uptime of on-location machines
Get meaningful machine data and analytics for high-impact business decisions
See earnings data in real time, and configure details like cost and balls per game
Bring entirely new players to your existing inventory via enabling social features
Increase revenue by making sure players can find and play your machines
Create an account with Scorbit and track your scores
Find locations near you and see what games are available to play.
Compete against your friends both on-location and virtually.
Operators and Collectors can easily manage pinball machines.
Download the app.
The Scorbit app is a central component of the Scorbit platform and works seamlessly with Scorbitron devices. And we'll be constantly adding new functionality as the Scorbit pinball community grows. 
Already using Scorbit?
Go to the next level and install a Scorbitron in your pinball machine!